Y2J Chris Jericho °CuDy°
Hall Of Famer





Nombre de messages

: 23138


Age

: 26


Localisation

: Derrière toi


Date d'inscription :

01/01/2009


Sujet: Futurs House Show Mer 4 Oct 2017 - 12:14

---

Comme vous aviez pu le constater au lendemain de Wrestlemania, le concept des House Show étaient de retour sous forme de tournoi. Bon, j'étais censé faire 10 House Show pour le Puroresu Tournament, mais finalement, cela va être raccourci à 8, du coup le dernier est pour bientôt. Et l'on commence une autre série de 10 House Show qui termineront en toute logique avant Wrestlemania, et donc je propose des idées, vous me dîtes si cela convient, à vos votes

King Of The Ring Tournament

Sans doute le tournoi le plus célèbre de l'histoire de la WWE, ce tournoi sera composé de 32 prétendant, tournoi par élimination dans des matchs simple en One on One, le gagnant de ce tournoi sera couronné King Of The Ring et obtiendra un Title Shot pour le titre KOF !

Trio Tournament

Cette fois ce tournoi se fera avec des équipes de trois. L'équipe gagnante remportera un Title shot pour les titres WAR, Xtreme et Wrestling !

Macho Man Memorial Tournament

Tournoi en mémoire à l'immortel Randy Savage. Là aussi, élimination classique, le gagnant de ce tournoi obtiendra un beau trophée puis en prime le poste de GM pendant un mois !
John Cena
KOF Champion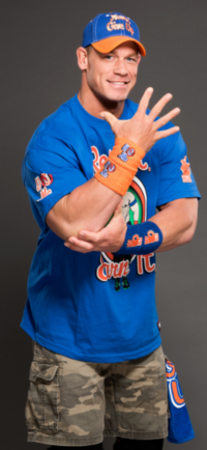 Nombre de messages

: 2319


Age

: 24


Localisation

: Because I'm The Only One John Cena


Date d'inscription :

17/11/2009


Sujet: Re: Futurs House Show Mer 4 Oct 2017 - 19:54

---
A.COLE |K.STEEN | Ju'
Main Eventer





Nombre de messages

: 1187


Date d'inscription :

04/03/2013


Sujet: Re: Futurs House Show Jeu 5 Oct 2017 - 19:45

---

J'ai beaucoup le Macho Man et en effet un tournoi en son honneur n'a même pas besoin de récompense à mes yeux, c'est juste beau ! Le King Of The Ring donne envie aussi, c'est un tournoi légendaire, et voir Adam Cole King Of The Ring, ça peut être intéressant

Mais je dois avouer que le Trio ça donne vachement envie

_________________

THE MAN UPTOWN | ADAM "One" COLE

Victory : 1| Defeat : 1| No-Contest : 0

THE ANTICHRIST OF PRO WRESTLING | KEVIN " MR. F'N WRESTLING " STEEN

Victory : 3 | Defeat : 2 | No-Contest : 1
Mike Fn Alexander•SC•Titi
KOF Legend





Nombre de messages

: 6727


Age

: 26


Localisation

: Lyon


Date d'inscription :

04/09/2009


Sujet: Re: Futurs House Show Ven 6 Oct 2017 - 20:47

---

Je vote pour le King Of The Ring, parce que j'aime bien ce tournoi qui a été massacré la dernière fois à la WWE

_________________

WE ARE THE CLUB ... WALK OR DIEhttps://king-of-federation.forumactif.com/t9926-the-history-of-mike-alexander
Wyatt Family - Laurent
MidCarder





Nombre de messages

: 851


Age

: 26


Date d'inscription :

04/12/2013


Sujet: Re: Futurs House Show Sam 7 Oct 2017 - 16:09

---

Le Trio, définitivement

_________________

|

" THE FLESH LADY " SISTER EPIPHANY

|

|

BRAY " THE FORGOTTEN OF THE NEW WORLD " WYATT

|

|

LUKE " THE GUARDIAN OF CORPSES " HARPER

|

|

ERICK " THE MUTLI HEADED BLOODY GOAT " ROWAN

|
Contenu sponsorisé

Sujet: Re: Futurs House Show

---